25 April 2018

WORLD MALARIA DAY

Malaria KILLS more expatriates and travellers in Sub-Saharan Africa than any other infectious disease. Malaria KILLS a child every 2 minutes.
Health Information
Malaria Prophylaxis
When considering malaria risk, travellers should bear in mind that NO Anti-malarial provides 100% protection against the disease. Thus avoiding mosquito bites remains the cornerstone of protection against malaria. DO NOT GET BITTEN! [Malaria] [Insect Bites] [Insect Repellents]
Although no Malaria Prophylaxis provides 100% cover, one should consider that 90% protection is better than no protection at all. Therefore the use of Malaria Prophylaxis is highly recommended as a second line of defence against malaria.
There are various myths surrounding malaria prophylaxis ranging from Gin being a good substitute to prophylaxis hiding the disease from medical experts. To find out the truth about prophylaxis and it's effects, travellers should consult their nearest travel clinic or medical practitioner.
Download our Malaria Information Brochure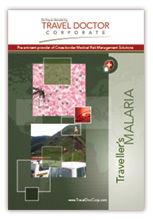 Myths and Truths
Myth:
Gin & Tonic works just as well as any prophylaxis available.
Truth: Gin (or any other alcohol for that matter) does not provide ANY protection against malaria. Tonic water contains quinine which is part of the treatment of malaria and not the prophylaxis, but not in any adequate amount.
Myth: Prophylaxis makes the disease undetectable.
Truth: Although malaria prophylaxis is suppose to "kill" malaria parasites as they leave the liver, most modern laboratories can still detect the disease in the blood of a victim. In most cases a negative result with continued illness will warrant a second and third blood smear examination. In fact, the World Health Organisation (WHO) recommends 7 tests to completely eliminate the possibility of Malaria. If you have malaria it will be found, even while taking prophylaxis.
Myth: All prophylactic medications have the same side effects.
Truth: Most travellers don't suffer any side effects from prophylaxis. The best choice of tablet should be made in consultation with a travel medical specialist or knowledgeable general practitioner.
Specific drugs used for protection
As mentioned earlier no drug is perfect and most effects the parasite only in the blood stage of the disease life cycle. In all cases it is necessary to ensure that adequate blood levels of the drugs are maintained during exposure and for a full four weeks afterwards.
Mefloquine (Lariam®/Mefliam): This drug has been widely used for the past 10 years for travellers from many countries throughout the world. It is taken once a week and provides a high degree of protection against malaria for many of the high risk regions of the world. In the majority of patients the drug is taken without difficulty but in a small number there are reports of side effects. It is essential that travellers discuss these issues with the prescribing doctor during the pre-travel consultation. Alcohol may play a significant role in accentuating side effects, so in general, it is probably wise to restrict alcohol consumption for 24 hours before and after Mefloquine administration.
Doxycycline: Doxycycline is a potent form of tetracycline and is commonly used as malaria prophylaxis. It should be taken once a day after meals. As it is an antibiotic, there is a possibility of thrush in those who are susceptible. Patients on tetracycline (and certain other drugs) may become more sensitive to the sun.
Atovaquone & Proguanil (Malanil®): Malanil® is the South African equivalent of Malarone® found elsewhere in the world. The tablet, like ALL available prophylaxis might cause minor side effects to a few users, but is generally taken without difficulty, and provides a high degree of protection.